---

OUR SUNDAY MASS
IS CELEBRATED
EVERY SUNDAY AT 2:00 p.m.
We look forward to celebrating Mass at
Sts. Peter and Paul Chapel with you.
ALL ARE ALWAYS WELCOME!

We welcome Fr. Scotty Ray of Osh Kosh, Nebraska on Sunday, July 10, 2022. Fr. Scotty will be our guest preacher and concelebrant!

Masses are live streamed on our Chapel's Facebook Page:
https://www.facebook.com/ssppECCUSA/
---
See our complete July bulletin
listed under
PARISH BULLETIN
in 3rd column. --->

Everyone is welcome to visit and worship the Father through his Son, Jesus Christ, in the love of the Holy Spirit.
Our mission is to make the unconditional love of Jesus Christ for humankind present in our lives at all times, especially at key moments of spiritual and physical need.

We are an independent Catholic congregation, a member of the Ecumenical Catholic Church+USA, in St. Louis County, Missouri.

We invite you to visit and worship with us at the Celebration of the Holy Eucharist (Mass) with us on Sunday afternoons.
We invite all to come to the banquet table of the Lord. All baptized Christians who are honestly seeking God through Jesus Christ and his Church are welcome to receive Holy Communion at this altar.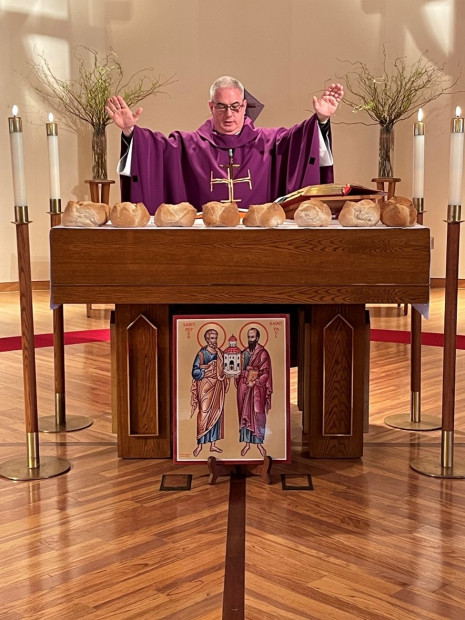 St. Joseph Bread Blessing
Celebrating the Feast of St. Joseph
Bread prepared, cooked and donated by our friend, Mike Vitale,
owner of Vitale's Bakery and Deli