From our March
Parish Bulletin
FROM THE PASTOR'S DESK
+Fr. Bob Catlett, M.Div.
---

In-Person Services Resume on Palm Sunday! Praise be to God! After a year of not being able to worship in-person, we have been give permission to resume Masses in our church on
Palm Sunday, March 28, 2021, at 2:00 PM!
We are limited to a capacity of 20 people inside the church, must wear masks and practice social distancing. Hand sanitizer will also be available. +Fr. Carl and I are looking forward to celebrating Masses at Peter and Paul Chapel again with you.
---
See our complete bulletin by clicking
on link in far right column.

To ponder: "Fast From, Feast On".
During these Four remaining weeks in Lent.
Fast from judging others;
Feast on the Christ dwelling in them.

Fast from emphasis on differences;
Feast on the unity of life.
Fast from apparent darkness;
Feast on the reality of light.
Fast from thoughts of illness;
Feast on the healing power of God.
Fast from words that pollute;
Feast on phrases that purify.
Fast from discontent;
Feast on gratitude.
Fast from anger;
Feast on patience.
Fast from pessimism;
Feast on optimism.
Fast from worry;
Feast on divine order.
Fast from complaining;
Feast on appreciation.
Fast from negatives;
Feast on affirmatives.
Fast from unrelenting pressures;
Feast on unceasing prayer.
Fast from hostility;
Feast on non-resistance.
Fast from bitterness;
Feast on forgiveness.
Fast from self-concern;
Feast on compassion for others.
Fast from personal anxiety;
Feast on eternal truth.
Fast from discouragements;
Feast on hope.
Fast from facts that depress;
Feast on verities that uplift.
Fast from lethargy;
Feast on enthusiasm.
Fast from thoughts that weaken;
Feast on promises that inspire.
Fast from shadows of sorrow;
Feast on the sunlight of serenity.
Fast from idle gossip;
Feast on purposeful silence.

Fast from problems that overwhelm;
Feast on prayer that strengthens.


Selected from
William Arthur Ward (+1994)
an American author, teacher and pastor.
----------------- + --------------------
Sts Peter and Paul Chapel
Creve Ceour, Missouri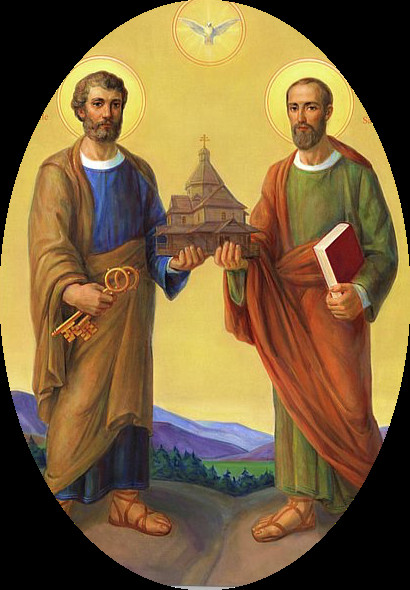 Welcome to our website; we are happy that you are visiting with us; let us know if you have any questions about our Catholic ministry. You are invited to worship with us. We are a small friendly, welcoming Catholic congregation. There's a place here for you too!
Finding the "right church" can feel overwhelming. As Christians - we do have choices. We too were looking, and so may we offer to you what we were looking for and then found at Sts. Peter and Paul.
We celebrate Sunday Mass in the beautiful sanctuary located at
St. Timothy's Episcopal Church, 808 N. Mason Road, Creve Coeur, MO 63141 (1/2 mile south of Olive Street Road on Mason Road).
Painting by Svitozar Nenyuk.
Used with permission of the artist.
https://fineartamerica.com/profiles/
svitozar-nenyuk.html
For directions to Sts. Peter & Paul, click on the red marker below and enter your address or current location.
Everyone is welcome to visit and worship the Father through his Son, Jesus Christ, in the love of the Holy Spirit.
Our mission is to make the unconditional love of Jesus Christ
for humankind present in our lives at all times, especially at key moments of spiritual and physical need.
We are a independent Catholic congregation, a member of the Ecumenical Catholic Church+USA, in St. Louis County, Missouri.
We invite you to visit and worship with us at the Celebration of the Holy Eucharist (Mass) with us on Sunday afternoons.
We invite all to come to the banquet table of the Lord. All baptized Christians who are honestly seeking God through Jesus Christ and his Church are welcome to receive Holy Communion at this altar.